Travel Medicine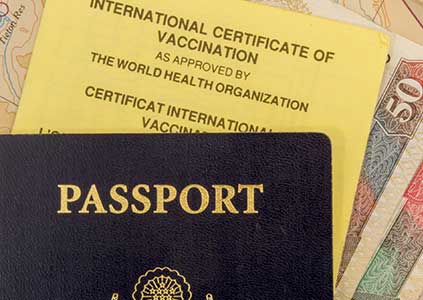 Nothing is more exciting than international travel – whether for business or personal reasons – and the last thing you need is unexpected health problems or illness while abroad. Diseases such as malaria, typhoid, and yellow fever still pose serious threats to unprotected travelers in many developing countries. If you're traveling outside of North America or Western Europe, additional time, consideration, and extra precautions are needed to safeguard your health.
When you travel abroad, you want a clinician with medical expertise as your personal travel health consultant to help you prepare before you go. Advantage Medical Clinic's travel health specialists offer preventive travel health services and up-to-date travel information based on recommendations from the Centers for Disease Control and Prevention and the World Health Organization.
What is a travel clinic?
Travel clinics are staffed by health care professionals with expertise in travel medicine. Services include:
Pre- and post-travel consultations
Immunizations
Other preventive health services
When should I visit a travel clinic?
It is recommended that you visit a travel health specialist at least four to six weeks before your scheduled travel date. Advantage Medical Clinic provides both required and recommended vaccinations for those traveling to foreign destinations, as well as travel health prescriptions and other preventive measures to self-treat common travel-related conditions. Be prepared to provide detailed information about your itinerary, current health status, and vaccination history.
Do I need an immunization certificate for international travel?
If you are traveling to Africa or South America, you may require a certificate of vaccination against yellow fever. Your vaccination can be administered only in a clinic that has been approved by your state to administer the yellow fever vaccine. Most travel clinics provide yellow fever vaccines but, if not, you may be referred to another clinic that is approved to provide this vaccine.
Travel Tips
To help you prepare, take some of these travel tips into consideration before traveling to your destination:
Learn about your destination – type of accommodations, food and water preparation, type of geographical areas you'll visit, and medical services available
Visit a travel clinic, or an Advantage Medical Clinic travel health specialist
Get appropriate travel vaccination for your destination, with enough time for vaccines to reach full effectiveness
Arrange for an adequate supply of your prescription medication
Collect items for a first aid travel kit
Check your health insurance coverage for international coverage and purchase additional health/accident/Medevac travel insurance